Salvador Dali: Vogue & GQ covers at MMOMA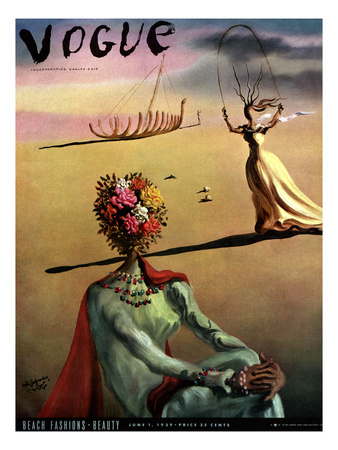 Photo courtesy: CondeNaststore
Are you in Moscow, Russia? Don't know how to spend time? Then rush to
MMOMA
aka Moscow Museum of Modern Art which is in Gogolevsky Boulevard, 10 to have a look at the exhibition made of Salvador Dali's original works which is being in full swing now.
I would die to simply catch a glimpse of those GQ & Vogue covers designed by the infamous artist in real.
I've been a huge fan of 'Avida Dollars' Dali since I was a school boy. First, I remember myself dawdling along the book-racks in the school library in search of his "Diary of a Genious". Unfortunately, in vain. Those were the (poor & f#gly) days...
Lo and behold, I could find it at my literature teacher's place (who used to be my Muse and the greates 'book worm' I've ever known, BTW) who had an old edition of the book: all shabby and faint.
My eyes sticked to the narrative autobiography which seemed like a surrealistic paradise to me where I would like to settle down forever. Everybody would!
Then I remember how they exhibited authentic Picasso & Dali's pictures here in Krasnodar two years ago. I visitited the
exhibition
, and I could hardly breath because of excitement. I had a really "dreams come true" moment at that time.
And now this exhibition at MMOMA. Oh, I would definetely go if I could visit Moscow now. But alas!
The only thing I'll be satisfying my visual pleasure will be the local bloggers' (lucky b#tches!) reposrts from the event. I would appreciate if you e-mail me some pictures if some of you decide to go.
And if you have extra free 125$ you might be interested in the
posters
designed by Salvador Dali specifically for Vogue. I think this is a good idea to implement some art moments into a fabric of fashion which Vogue is quintessence of, cause art and fashion are inseparable.